MOLD REMEDIATION SERVICES
Even when you are too cautious and alert, there is no denying that mold and other harmful microorganisms can grow in your place. Spots with increased moisture and warmth are the ideal places for mold to grow and multiply. Before you know it, you have an infestation at your hands. Am Pm Restoration needs no introduction when it comes to mold remediation services. We are at the heart of the industry in the area by offering quality and dependable services. Instead of going all out, we try to determine the source of the infestation and go from outside to inside. In this way, we reduce the chances for future infestation. We have a team of mold removal specialists and professionals with years of experience and expertise in dealing with crawl space mold remediation. If you are desperately looking for the best home mold remediation companies in town, you have come to the right place as we have all the specialists at your disposal. We demand nominal pricing for our world-class services so you can always rest assured that you will have the best guys on board without fussing over the quality and agility of the project. We provide our services in the areas of Woodland Hills, Thousand Oaks, Ventura County, Malibu, Santa Monica, Beverly Hills, Pasadena, Redondo Beach, San Marino, Altadena, Oxnard, La Canada, Long Beach, Canyon Country, La Crescenta and Huntington Beach CA. So, for a quick quote, contact us now!
TOXIC Mold: A Hazard to Health and Home
Any home or business can quickly become infested with mold with the introduction of a water source, like a roof or plumbing leak. Mold can spread throughout a property in as little as 48-72 hours, and can produce allergens and irritants that have the potential to cause other health effects.
REASONS TO DO MOLD TEST!
Home buyers are well advised to invest in both a home inspection and mold inspection before purchasing a home, particularly if there is any indication that there are potential moisture issues. The problem with mold is that it can be hidden under baseboards, beneath carpet, and under a new paint job. Am:Pm Restoration inspector will look for visual problems with the home, signs that conditions exist to encourage mold growth:
Water stains
Heavy smell of mildew
Water seepage
Leaky roof.
Human sensitivity: itchy eyes, burning sensation on skin, coughing.
Save money by calling us!
Since extensive mold in a home can make it virtually unlivable, testing for a specialized mold can potentially save you thousands of dollars and your health.
How Do I Know If I Have Mold?
Mold can grow just about anywhere, but it typically thrives in warm, humid or moist environments It can also sometimes be found in drier environments that have poor ventilation or air flow. It is commonly found both indoors and outdoors – typically around places such as:
Leaky roofs
Air ducts
Anywhere moisture is retained
Leaky windows
Air filters
Anywhere there has been flooding or standing water
Leaky pipes
Ventilation systems
WHAT IS MOLD?
Mold is considered a sub-group of the Fungi Kingdom it is a fungus that grows in wet and humid places, some types of mold are commonly known as mildew.
Mold is a non-scientific term for many types of fungi - unwanted, unappealing patches of black, brown, yellow, pink, green, smelly, fuzzy growths.
Countless species of mold are found both indoors and outdoors.
Mold are asexual fungi that produce spores that are extremely small and can be airborne
Present on carpet, air we breathe, basements, walls, ceiling, kitchen, water heater, crawl space and any moist area in the household may harbor mold.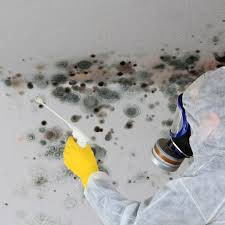 Fast, Fair, No-Hassle Service
Simple, Immediate Site Inspection
Flood Water & Sewage Cleanup
Mold Location & Containment
Tarping & Board-Up Services
Mold Testing & Identification
Odor Removal & Air Quality Testing