ARE YOU DEALING WITH MOLD IN YOUR HOME? LET AM:PM RESTORATION TO HELP! WE ARE THE INDUSTRY LEADER IN MOLD REMOVAL AND OUR EXPERT TEAM CAN IDENTIFY, ASSESS, AND ELIMINATE MOLD FROM YOUR PROPERTY! Get a free on-site estimate for your mold remediation project.

Get your free estimate now
MOLD REMOVAL & INSPECTION SERVICES
PROTECT YOUR HOME & HEALTH FROM DAMAGING INFESTATIONS
Mold is one of the worst contaminants you can find in your home. Though not always visible or easy to spot, it can wreak havoc on your property. Mold can grow anywhere indoors where there are wet or damp surfaces. It can begin growing on a wet surface within 48 hours and if left unchecked, can impede your quality of life and put the structure of your home at risk. If you see signs of mold in your home, or 
if you recently had water damage
, don't hesitate to give our team a call. We use advanced tools and processes to detect any mold that may be present in your home. Our team uses specialized chemicals for mold removal services. Mold may be everywhere in nature, but it doesn't belong in your house. The mold restoration company AM:PM RESTORATION AND CONSTRUCTION is here to protect your home from mold damage. We provide our services in the areas of Woodland Hills, Thousand Oaks, Ventura County, Malibu, Santa Monica, Beverly Hills, Pasadena, Redondo Beach, San Marino, Altadena, Oxnard, La Canada, Long Beach, Canyon Country, La Crescenta and Huntington Beach CA. So, for a quick quote, contact us now!
CAN LIVING IN A HOME WITH A MOLD MAKE YOU SICK?
Breathing in mold spores can worsen asthma, cause fatigue, and even irritate your lungs and mucous membranes. Individuals with allergies or compromised immune systems should be wary of mold infestations. Black mold can produce symptoms similar to illness like coughing, sneezing, runny nose, watery eyes, and skin rashes.
TOXIC Mold: A Hazard to Health and Home
Any home or business can quickly become infested with mold with the introduction of a water source, like a roof or plumbing leak. Mold can spread throughout a property in as little as 48-72 hours, and can produce allergens and irritants that have the potential to cause other health effects.
REASONS TO DO MOLD TEST!
Home buyers are well advised to invest in both a home inspection and mold inspection before purchasing a home, particularly if there is any indication that there are potential moisture issues. The problem with mold is that it can be hidden under baseboards, beneath carpet, and under a new paint job. Am:Pm Restoration inspector will look for visual problems with the home, signs that conditions exist to encourage mold growth:
Water stains
Heavy smell of mildew
Water seepage
Leaky roof.
Human sensitivity: itchy eyes, burning sensation on skin, coughing.
Save money by calling us!
Since extensive mold in a home can make it virtually unlivable, testing for a specialized mold can potentially save you thousands of dollars and your health.
How Do I Know If I Have Mold?
Mold can grow just about anywhere, but it typically thrives in warm, humid or moist environments It can also sometimes be found in drier environments that have poor ventilation or air flow. It is commonly found both indoors and outdoors – typically around places such as:
Leaky roofs
Air ducts
Anywhere moisture is retained
Leaky windows
Air filters
Anywhere there has been flooding or standing water
Leaky pipes
Ventilation systems
WHAT IS MOLD?
Mold is considered a sub-group of the Fungi Kingdom it is a fungus that grows in wet and humid places, some types of mold are commonly known as mildew.
Mold is a non-scientific term for many types of fungi - unwanted, unappealing patches of black, brown, yellow, pink, green, smelly, fuzzy growths.
Countless species of mold are found both indoors and outdoors.
Mold are asexual fungi that produce spores that are extremely small and can be airborne
Present on carpet, air we breathe, basements, walls, ceiling, kitchen, water heater, crawl space and any moist area in the household may harbor mold.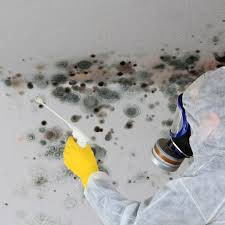 MOLD RESTORATION FAQ
How do I know if I have a mold problem?
If you notice any unusual musty odors, see dark or discolored patches on walls and ceilings, or experience an unexplained increase in respiratory issues such as congestion and coughing when inside your home then these could be signs of excessive humidity that can lead to the growth of potentially dangerous types of molds.
What are some preventative steps for keeping my home clear from mold?
Ensure there is proper ventilation throughout the house to remove moisture-laden air; reduce dampness by using dehumidifiers especially around warm areas such as kitchens & bathrooms; properly seal up cracks within exterior foundations/walls where water may accumulate over time. Additionally, it's important to clean all wet surfaces after each use thoroughly with detergents plus bleach solutions (or other disinfectants).
Why should professionals handle a situation involving black toxic mold?
Black Toxic Mold can cause serious health risks so only experienced technicians trained in safe containment methods designed specifically deal effectively with this type of risk should attempt remediation efforts.
Trusted Mold Removal Experts Fast, Fair, No-Hassle Service
Dealing with black mold requires the expertise of professionals who understand the seriousness of the situation. At AM:PM Restoration and Construction, our dedicated team specializes in removing black mold. With years of experience and specialized training, our experts have the knowledge and skills to identify and eliminate black mold effectively.
Using advanced techniques and top-notch equipment, we thoroughly inspect your property, contain the affected areas, and safely remove the mold. Our priority is to create a healthy, mold-free environment in your home. You can rely on us to handle your black mold concerns with expertise, precision, and a commitment to restoring your property. Contact us today for reliable black mold remediation services.
Simple, Immediate Site Inspection
Flood Water & Sewage Cleanup
Mold Location & Containment
Tarping & Board-Up Services
Mold Testing & Identification
Odor Removal & Air Quality Testing